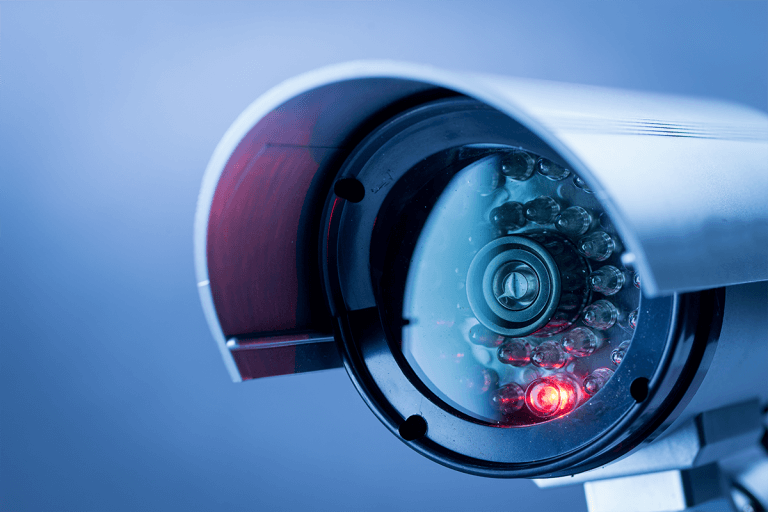 Thermal Imaging Cameras
Accurate reading of human body temperature to within .4% tolerance. Non-contact sensing. Recent pandemics have made the need to help create a healthier work environment. Perfect for schools, public events, stores, etc.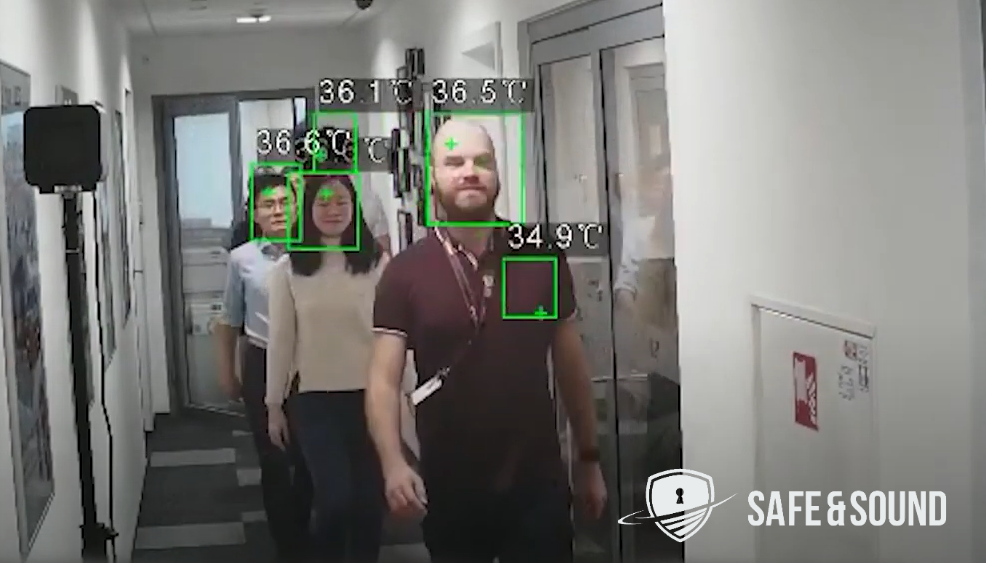 ---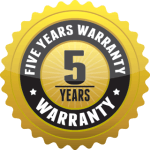 5 Year Warranty
Our systems come with a 5 Year Warranty on parts and labor. Our Camera Systems feature advanced algorithms that can perform Facial Recognition, Criminal Database searches, Heat Detection and more.
Note about Live Views below:
To conserve bandwidth, the Live Views are at a lower video quality than actual recorded quality and camera capabilities.
---
Auto Tracking PTZ
PTZ (Pan/Tilt/Zoom) tracking is an innovative feature that transforms manually controlled PTZ cameras into automated tracking systems that keep a moving object in focus and centered in the frame. It follows the object where stationary cameras would lose the object once out of the fixed cameras field of view. 450ft IR with 30x Zoom
---
PTZ(Pan/Tilt/Zoom) Camera
In addition to manually controlling the Pan/Tilt/Zoom features of this camera a schedule can be set to automatically Scan a scene, or do a Tour of your protected area.
What is the difference? Scanning Mode will tell the camera to scan back and forth the area you wish to see. In Tour Mode you select preset areas and how long you want the camera to dwell on that area before it moves on to the next.
In the Live View below you see Tour Mode from 7 AM – 5:00 PM. The Scan Mode is schedule from 5:00 PM – 7:00 AM
---
12 MP 360° Fisheye Camera
Fisheye Cameras provide detailed panoramic views in a compact, low-profile design. A fisheye lens provide a high-quality 360° panoramic view without blind spots, making the camera the ideal solution for wide and open areas, such as airports, shopping malls and banks. The camera offers multiple dewarping modes for different installations and configurations that enhance the video to fit a specific scene. The IP67 environmental protection rating and IK10 vandal resistance ensures the camera operates in the harshest environments.
There are several dewarping methods. Here are some examples: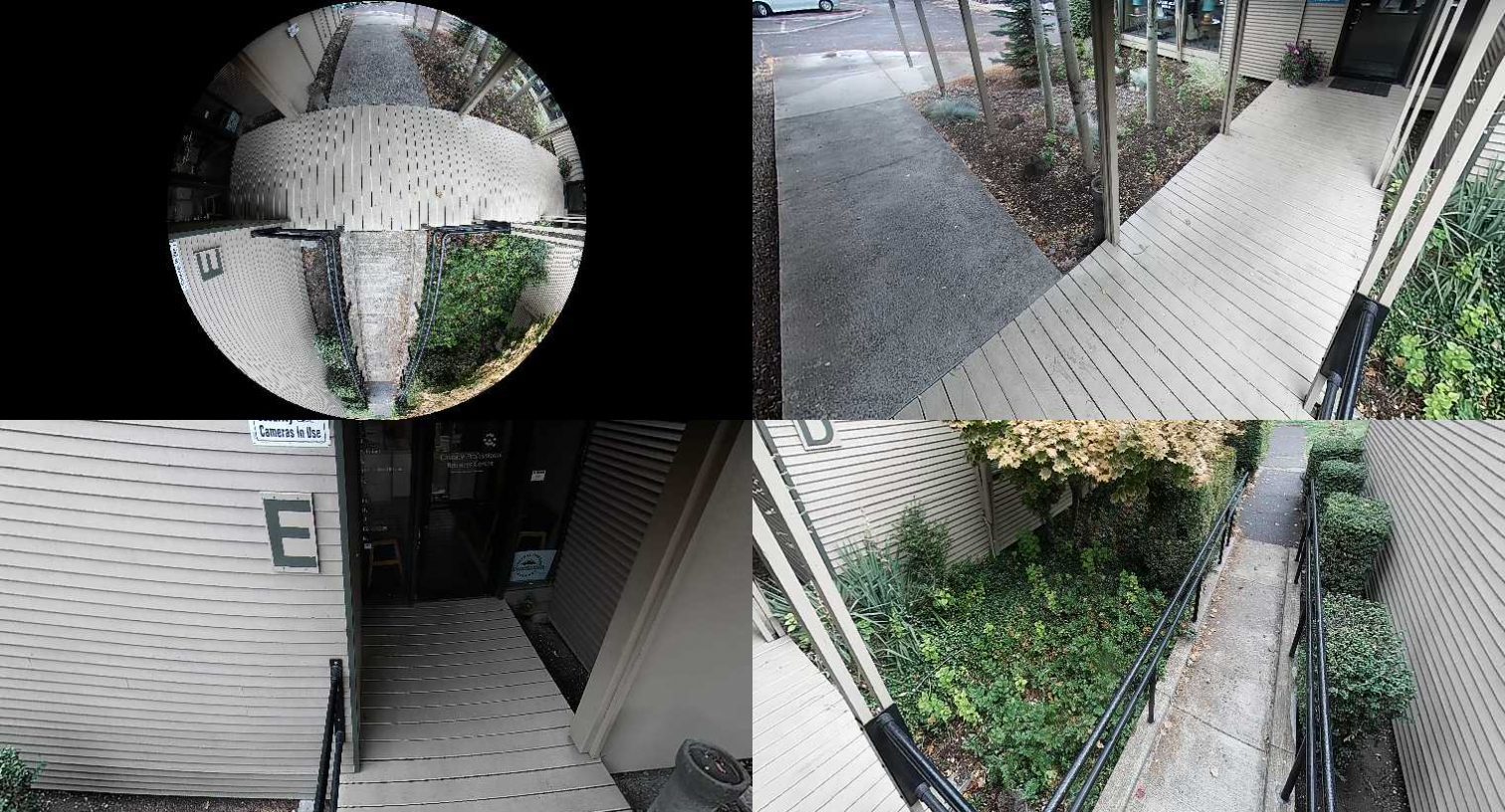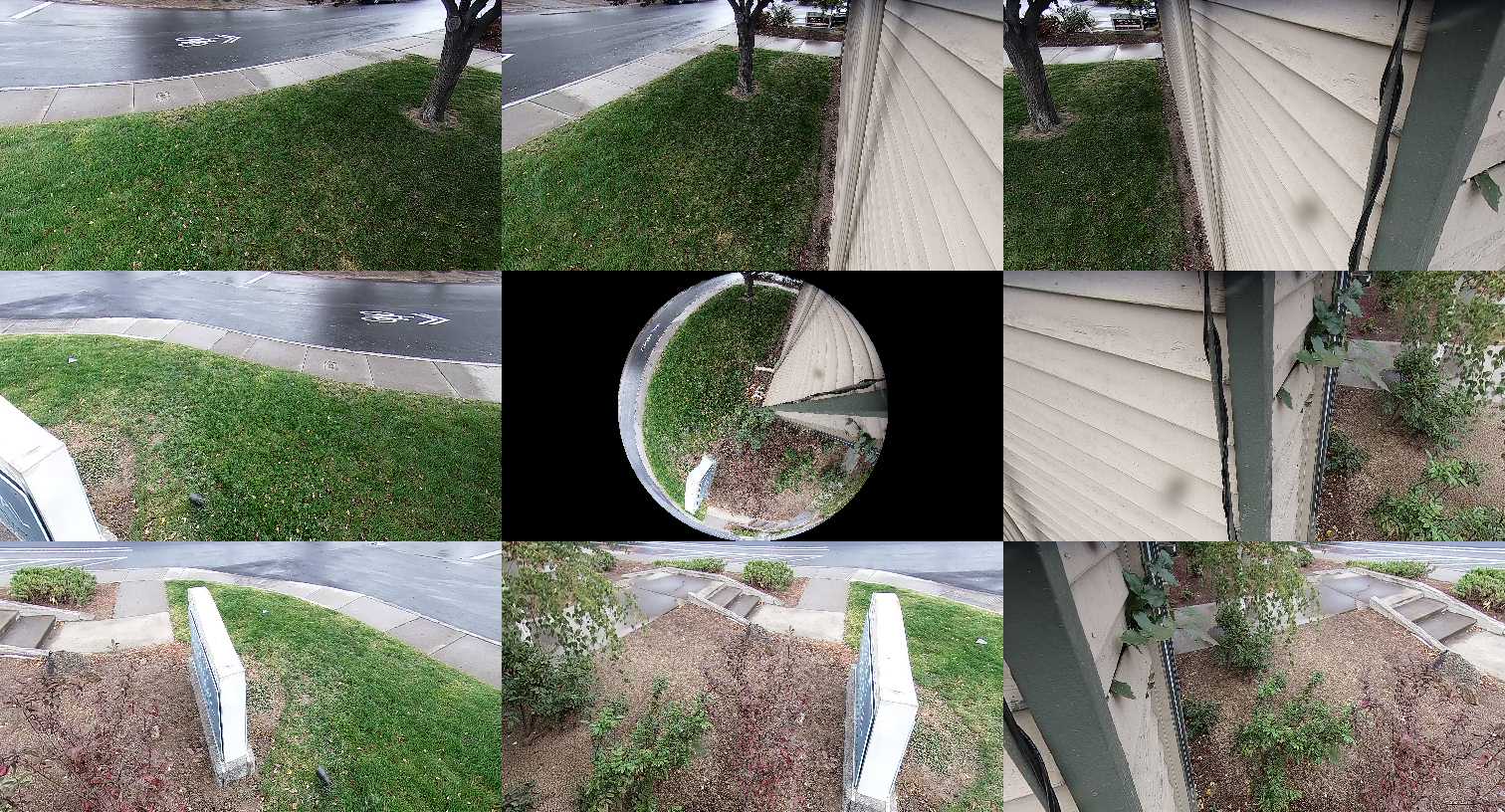 ---
12 MP Panoramic Camera
The multi-sensor camera provides added flexibility for capturing wide area video surveillance. With three (3) 4MP sensors working in tandem to create a comprehensive 180° overview, the camera can replace multiple single-sensor cameras providing a higher return on investment.
There are several dewarping methods. Here is an example:

Establishing a reliable camera security system is an important part of making sure your property remains as secure as possible. While physical security mechanisms, locks, and security patrols can play an important role in theft deterrence, cameras provide constant surveillance and can give you images of potential burglars, unscrupulous employees, and that guy who keeps snatching Amazon packages.
Unfortunately, many people lack the necessary expertise to set up a reliable security camera network that covers all areas of their property and operates smoothly. That's where Safe & Sound Alarm Systems can help.
A reliable camera system will allow you to sleep more easily and be confident that you'll find your property in the same shape in the morning as it was at night. Here are some of the many factors to consider in your choice of which equipment to buy and how to set it up for the best results:
Angle Selection
When establishing the setup of a camera security system, the first consideration you should have is coverage. If your property is a regular shape and doesn't feature any difficult angles, then it shouldn't be difficult to make sure all of the points of entry to both the property and a building are covered.
However, if you don't have the advantage of easy geography, the task gets substantially more difficult. Checking your camera setup for dead spots is important because in the event that you become the victim of a property crime, you can be sure that the perpetrator will do his or her best to find your cameras and avoid them. We can design your security camera system to ensure that you have the maximum coverage.
Equipment Selection
Buying the right cameras is an important part of making sure that you receive the full coverage you desire. There are a wide variety of options available on the market, and as with the design of the angle pattern you choose, the cameras you decide to buy will vary based upon a number of factors. Chief among those is the size and shape of your property.
In a limited area, you might be able to purchase cameras with a higher resolution that can guarantee full coverage of faces and identities from close up.
It's also important to consider the environment in which your cameras will be operating. High moisture areas may put electronics more at risk or could creating fogging and smudging inside of lenses that might interfere with the clarity of your images. The weatherproof housing is available for most models of security systems, which should help shield your equipment from the most extreme weather conditions. Sun, of course, poses its own challenges. Glare and shadows can compromise image quality and can leave you searching for devices that consistently refocus as lighting conditions change.ed to overlook a larger area, you may be stuck with lower resolutions for wider angles. While the development of high definition cameras has advanced to the stage where you should have access to clear images with all equipment, other bells and whistles like color and audio may vary based on your needs and your budget.
At Safe & Sound Alarm Systems, we take all of these environmental factors into consideration when we recommend the best performing outdoor or outdoor cameras for your needs. We will help ensure that you get camera equipment that functions perfectly when you need it most!
Data Storage
Live monitoring of your security cameras is important, but it also covers only half of your responsibility when it comes to keeping your property secure. For business owners, the majority of property crimes are likely to occur during off-hours or other times when your cameras may not be actively monitored, and so it's important that evidence is properly maintained to be turned over to the relevant authorities.
If your cameras capture someone on your property engaged in behavior that they shouldn't be engaged in, you might never know it if the tapes or video files aren't easily accessible. It's important, then, that you fully catalog your surveillance data and have easy access to it on demand. Without that access, you might find yourself digging through countless hours of footage in an attempt to find information that may not even exist. Organized storage is the only effective storage.
We can help you set up a security camera system that also includes data storage, so you have the evidence you need.
Automatic Tracking
One common type of camera system is an automatic tracking system. While older models may simply tilt and pan around the area you've selected for coverage, an automatic tracking system will lock on to items as they appear within view of the camera and automatically focus on them in an attempt to detect any incursions which may be out of place.
Though this may sometimes result in your cameras looking into the sun or otherwise becoming obscured, or possibly also occasionally locking on to wildlife, automatic tracking systems are frequently the best possible option for making sure that your cameras focus on the action when it happens.
Also, automatic tracking can help ensure that you're able to keep track of every person who enters your property — whether they are employees, customers, or a potential threat you should know about.
360 Degree Fisheye Cameras
In some cases, your focus may be less on covering the perimeter of your property and more on simply covering entrances. If the physical footprint of your location is on the smaller side or if your goal with your cameras is simply to have a record of people who are coming and going, a 360-degree fisheye camera can be an excellent addition.
The field of view is wide, and the high resolution should record the faces of anyone who approaches a given surface. The full 360-degree view also guarantees that any packages or items left in front of the surface the camera is mounted on will be recorded. This can help match people to items and eliminate any potential sources of confusion.
One major advantage of 360-degree fisheye cameras is that they can be used in places where the body of the camera may need to be obscured. If you're attempting to surveil an area without revealing to others that a camera is being used, the smaller body and pinhole design can be utilized to blend them into the surrounding environment. This can make 360-degree fisheye cameras an excellent choice if you're concerned about loss due to the inappropriate actions of employees.
A large scale overview of your property may be necessary if you're unable to be on site as frequently as you desire or if there's a large number of vehicles and people constantly entering and leaving the site. A high-resolution panoramic camera can provide video surveillance of a large area with much less effort.
High-Resolution Panoramic Cameras
In some cases, you may even be able to position a variety of lenses at different areas around your property, allowing you to develop composite images that span the full length of the horizon and thus guaranteeing complete coverage.
Tell us about your security camera system needs, and we'll design a system with just the right equipment and set up to provide optimal coverage of your property.